City of Vancouver – Airbnb Property Management
In the beautiful bustling city of Vancouver, British Columbia there is no shortage of stunning scenic beauty and mild climate. Whether they are over for business, vacation or family; guests are always in awe of how breathtaking this city is. However, when it comes to picking out a place to stay there is no doubt that hotels and Airbnbs are the choices you have at hand. As much as hotels may deliver a professional, uninterrupted and strict service, Airbnb's are homier and carry that more personal vibe. Read on to find out an in depth guide to statistics and data on Airbnb property management in Vancouver, BC.
The Market in Vancouver
The Airbnb market in Vancouver can be quite successful, as there is a high demand for rentals within the region. That is because there is a higher possibility of experiencing the true Vancouver lifestyle through Airbnbs, as compared to hotel stays. Getting a glimpse of how Vancouverites live their life, really adds to your overall visit.
The average daily rate for a one-night stay currently amounts to $141. This can be considered as fairly high but seeing all the amenities the city has to offer, it is quite reasonable.
Airbnb Property Management in Vancouver
Airbnb property management in Vancouver can be quite difficult when there are 7500+ active rentals in the city. The majority of the rentals happen to be "entire homes". There seems to be an evident demand for such properties since Vancouver can be a pretty family-friendly location. About 73% of the properties are of entire home rentals.
However, there is a demand for private one-room Airbnbs as well since it is not uncommon for busybodies to pay a visit to the city. That can be for work, projects or even for a one-day getaway. 26% of the available active Airbnb rentals are private rooms. Shared rooms are almost nonexistent at a 1% frequency.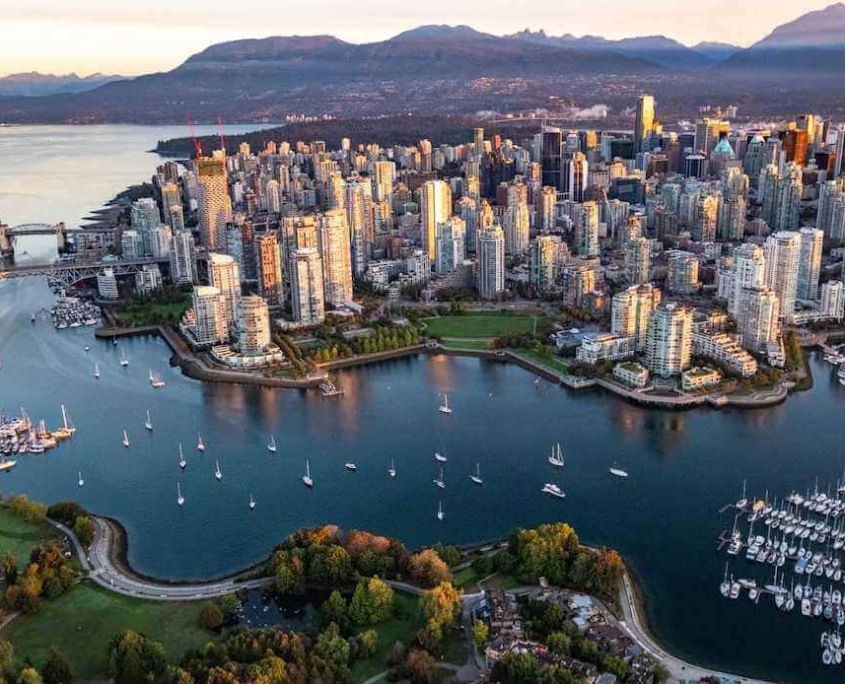 Booking Platforms
Hosts usually prefer their Airbnb property management done through Airbnb.com, since 91% of the markets properties are advertised there. However, VRBO is also another outlet used for booking rentals. However, only 5% of hosts utilize its services to publicize their rentals. A very small amount of rentals are listed on both outlets since the official Airbnb portal is a primary spot for bookings.
General Stats about Airbnb property management in Vancouver
About 42% of the properties contain only one room. That can be explained by the fact that most visitors could be individual travelers visiting on their own, or maybe even couples who are on their honeymoon, out exploring the world. Studio apartments on the other hand amount to only 7% of the total rentals available in Vancouver. That is understandable seeing as how most guests are hoping to be welcomed with a homier type of experience. Two-room rentals make up a total of 33% Vancouver Airbnb properties whilst 3 room rentals cover only about 12%.
Property Amenities
Over 90% of the properties in Vancouver, BC are supplied with basic luxury necessities such as heating, Wi-Fi, kitchen availability and laundry machines. Adversely, it is a bit difficult to find hot tubs, pools and TV services available. Approximately only 20% of the rentals accommodate these services. A rough estimate of 60% has air-conditioned interiors. Anyway, the air conditioning is no big issue since Vancouver has gorgeous, mild weather.
Ratings and Rental Stats
Experiences with Airbnb homes in Vancouver are undeniably loved as overall 83% of guests choose to rate above 4.5 stars. The average overall rating lies at around 4.65. The cancellation policies are flexible seeing as Vancouver is a fairly busy city, plans can change and quite quickly too. Around 35% of guests will choose to stay for a single night. Furthermore, 26% of people opt to stay 2 nights and a whopping 20% will go on to stay for a whole month in their Airbnb.
To find out more about hiring a professional team to handle your Airbnb Property Management in Vancouver, click the button below  to get in touch with our team.